The Hamilton Chamber of Commerce has been actively advocating on behalf of its membership towards making Hamilton more open for business. Municipal red tape issues are a common concern in communities across the world, with the natural state of complicated local bylaws, application processes, and legal requirements clashing with the desire for businesses build, renovate and operate their enterprise in a timely and cost efficient manner.
While this dialogue can often turn antagonistic in many communities, the Hamilton Chamber of Commerce and the City of Hamilton have been working together to facilitate a constructive dialogue that addresses the concerns of our members and the wider business community.
Our Chamber speaks on behalf of our members at public consultations, open houses and through direct communication channels with staff and councillors on various issues. We have also been appointed as an official advisor on Hamilton City Council's Open for Business Sub-Committee.  The Sub-Committee monitors an ambitious work plan, having oversight over 120 ongoing items contained with the City's "Open for Business Action Plan," "Development Application Approvals Process Review" projects and other current bylaw reviews.
We feel that it is important to publicly recognize and communicate the fruits of our ongoing partnership back to the membership. This post is the first of many in a special blog series that will be discussing improvements to local legislation, soliciting feedback, promoting new pilot projects, and highlighting opportunities to attend both City and Chamber lead consultation sessions.
---
Case Study #1: The City of Hamilton saves small businesses over $360 through eliminating Encroachment Agreements red tape (November 2016)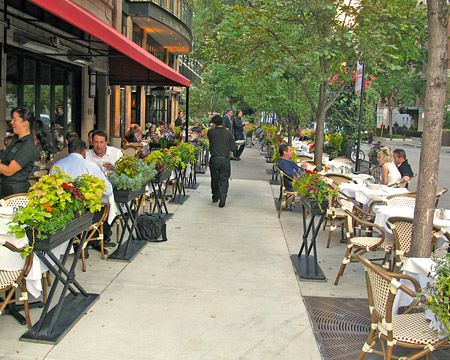 While many of the concerns within the City's Open for Business work plan are dense and technical in nature, with their resolution reasonably requiring an extensive due process, the City has also implemented several internal policy changes to cut red tape and encourage innovative ideas.
These changes are lead by a City staff initiative called the Continuous Improvement Team (CIT) which reviews business impediments after they have been through the development approvals.
After a successful launch of the sidewalk patio and temporary business licensing pilot projects this summer, the City of Hamilton has now addressed concerns related to Encroachment Agreements for minor extensions of buildings and materials into the road.
Under existing policy, Encroachment Agreements were required by the City for such things as awnings, out-swinging doors, landscaping, porches and decks, outdoor boulevard cafes, portions of buildings, signs, steps and accessibility features. Encroachment Agreements are not currently required for such features as refreshment vehicles, temporary signs, fruit and vegetable stands, planters and vending machines, among others.
These agreements were costing businesses $294 for an initial application, with an additional $56 annual renewal charge, and unnecessary paperwork. 
Through an internal policy change dated November 10th, the City has announced that:
(a) the Business Improvement Area (BIA) Commercial Property Improvement Grant Program will offset the cost of future Encroachment Agreements through a 100% grant to a maximum of $3,000 per application.
(b) Encroachment Agreements will no longer be required for:
• Temporary seating;
• Small scale lighting features;
• Signage requiring building permit; and,
• Retractable awnings and awnings that require Building Permit Applications;
Instead, the moving forward, for the conditions identified above, the permit process will now be replaced with a letter of acknowledgment from the City's Building Department and forwarded to the Public Works department.
---
For more information, to share your experiences as a business owner or to directly get involved with the Chamber's Open for Business activities, please contact: Huzaifa Saeed | Policy & Research Analyst | Hamilton Chamber of Commerce | e: h.saeed@hamiltonchamber.ca | t: 905-522-1151 ext: 230