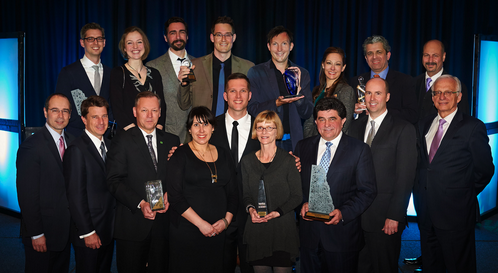 Last night, the Hamilton Chamber held the 30th Annual Outstanding Business Achievement Awards. The gala dinner, held at Carmen's, was attended by over 350 guests. The Hamilton Chamber of Commerce congratulates the following winners.
SMALL BUSINESS:
Red Hill Coffee Trade
Red Hill Coffee Trade is all about providing a coffee experience. Red Hill Coffee Trade purchases high quality green fair trade and organic coffee from different continents, countries and regions. Red Hill Coffee Trade's primary focus is craft roasting our coffee in small batches with diligent attention to the details of time, temperature and aroma in order to highlight each origin's own unique flavours, tones, & nuances. Red Hill Coffee Trade was started by Jason Hofing in the fall of 2008 with a strong commitment to the craft of roasting fair trade and organic coffee and a love of Hamilton. The roasterie began it's operation at the back of an industrial building on the Hamilton east mountain. The first few years were spent researching and developing a variety of roast profiles, building relationships with restaurants that focused on fresh, local ingredients and local food retailers, fostering relationships with local organizations and businesses and participating in local cultural events.
LARGE BUSINESS:
Vrancor Hotels Group
Over a period of 5 years, Vrancor Group Inc. has increased from 384 to 1951 guestrooms in the hospitality industry. Tourism Hamilton concluded their city needs more hotel rooms to draw major conventions and Vrancor Group will bring 185 additional rooms to the city's core in the next year! In total it will contribute by operating 615 guestrooms in Hamilton. Vrancor Hospitality Corporation was proud to unveil the most recent renovation at the Sheraton Hamilton Hotel- the 18th floor Prime Minister Suite. It has hosted prestigious guests from most recently Oprah Winfrey, Justin Trudeau, First Lady Laura Bush, actors, musicians, comedians and of course the Prime Minister of Canada on multiple occasions. Vrancor Group is excited to continue this positive difference in Hamilton tourism.
IRONMAN (sustained performance over a period of minimum 15 years):
First Canadian Title Hamilton
FCT is the pioneer and leader in the Canadian title insurance industry. We have been operating in the Hamilton core since 1994. The first mortgage refinance policy was issued from Hamilton in 1994 and Hamilton is an operational centre of excellence servicing 280 lenders in national and regional programs. 2013 marked the 9th year FCT has entered a corporate team in the Around the Bay race raising over $130,000 for St Joseph's hospital and the launch of the FCT Charitable Foundation which raised over $5,000 for Good Shepherd Centre and the Phoenix Place. FCT has also entered teams in the Run for the Cure, and Relay for Life.
YOUNG ENTREPRENEUR (up to age 35):
Daniel Hyams, Fermata Inc.
Daniel Hyams, PhD(c) is the Executive Director Fermata Inc., which operates at a purpose designed studio on at 809 King Street East. Fermata Inc. co-ordinates music therapy for children and families, and adults with developmental needs, speech, language and communication, family therapy and behavioral approaches. Fermata Inc. also provides on-site music therapy in long term care facilities across Hamilton, St. Catharine's, the GTA and Waterloo. The No Bounds Music Education program offers bespoke specially adapted music lessons for all ages. Fermata Inc. provides music therapy for clients and service users with the Lawson Ministries, and with Ontario Works. Through the Addiction Services Initiative, participants can access music and art therapies in open groups being facilitated at the Freeway Coffeehouse at King Street East.
COMMUNICATION TECHNOLOGY:
factor[e]Design Initiative
factor[e] design initiative is a design, web, print and multimedia studio that believes in creative freedom, open collaboration and uncompromising quality. Founded in 1999 with the intent of creating a place for design professionals to collaborate, cooperate and create, factor[e] has emerged as a leader in the design industry, forging a reputation for delivering dynamic and effective results. They combine a focus on personal client relationships with a vibrant and innovative creative process, rigorous standards, and a dedication to artistic and technical excellence. Their growing list of international and local clients is a testament to their expertise. Their extensive portfolio speaks to our experience. At the core of it all, their people keep factor[e] humming along, producing great work and having a great time doing it.
NOT-FOR-PROFIT:
Hamilton Artists Inc.
Founded in 1975 by a group of professional artists, the Hamilton Artists Inc. (the Inc.) is committed to supporting innovation and experimentation in contemporary art. In The Hamilton Artists Inc. was incorporated in 1979 and received charitable status in 1981. The Inc. is committed to providing professional opportunities for its membership, and in 2013 presented several exhibitions of work by the exceptional artists that belong to the organization. In 2013, the Inc. launched IGNITION – an annual event designed to celebrate three exceptional graduating students from McMaster and FEAST Hamilton, an annual micro-funding event designed to put much-needed resources in the hands of local artists.
DIVERSITY (New category for 2013):
directWorx
directworx has had the pleasure of evolving along with Hamilton since its inception. As a vendor to many of our City's not-for-profit organizations, they see firsthand the important work that results in the betterment of so many lives. Giving back has been at the heart of their business from day one and they have committed to continue to do so into the future as the needs are many and the opportunity to help is fulfilling. For over 11years, directworx has continuously employed at least one individual from Manor Personnel Deployment, a one of-a-kind consumer-driven business that helps people with autism spectrum disorder and schizophrenia work and earn wages in our community. In late 2012, directworx made a policy decision to first consider candidates for all new positions from ableworks, a service that helps businesses recruit, hire and train the right candidate who happens to have a disability. This decision has resulted in capable permanent placements at directworx.
CENTURY:
TD BANK
In 1871 the office of Hamilton Provident opened in Hamilton. Hamilton Provident was purchased by Huron & Erie in 1926.. In1876 Landed Banking & Loan opened in Hamilton and merged with Canada Permanent in 1944. CP then merged with Canada Trust in 1985. In 1907, the Dominion Bank arrived in Hamilton and in 1908, opened a second branch in the city. In 1914 the Bank of Toronto arrived in Hamilton. As part of TD's advertising campaign "People Make the Difference", a 1961 ad featured Harry Crawford, Branch Manager at Main and James Streets in Hamilton. The text is priceless, including this: "His extensive experience in the operations of many different kinds of business, together with his understanding of people, makes his counsel both sought after and accepted. That's why many Hamilton businessmen like to "Ask Harry Crawford" before they make important decisions." In 1963 Hamilton Trust was established. In 1977, it amalgamated with Canada Permanent. One of its slogans was "Put your Trust in Hamilton." Community involvement included sponsoring a scholarship to McMaster University. By 1980, Green Machines arrive in Hamilton and by 1984, TD opened a new Commercial Banking Centre in Hamilton. Today, TD has 436 employees living in Hamilton. 372 employees work in Hamilton for CBAW (Canadian Banking, TD Auto Finance and Wealth)