Commercial Electronic messages include:
Email
Text Messages
Personal Social Network Message

s
According to the Canadian government, any email sent to/from a Canadian computer, mailbox or network falls under jurisdiction of CASL; but the legislation is specifically targeted at individuals or organizations attempting to generate commercial activity. The regulation will be one of the strictest anti-spam policies in the world and will likely significantly affect the communications efforts of businesses of all sizes.
The Chamber has outlined the specific requirements that members need to be aware of to ensure that they are in compliance.
Consent
Canadian Anti-Spam laws (CASL) talk about two different types of permission when it comes to collecting email addresses. These types of permission are called express permission and implied permission.
Expressed permission
This category indicates that a consenting relationship has been established with the consumer before they are contacted by email.
Things to note:
Organizations must explicitly ask for consent and give the criteria  – When collecting new addresses through any means (fishbowl, web form, in person meeting), i.e: permission to email and clearly communicate the details required for express consent verbally or in writing.
an oral consent will be acceptable only if it can be verified by an independent third party or if an audio recording of the consent is maintained;
Organizations must maintain a database of consent provided by contacts.
Consent can also be obtained by a visible opt in option emailed out to existing members of a mailing list.
requests for consent for multiple types of activities CANNOT be bundled into a single request, such as a consent to send a CEM and a consent to install computer programs on a recipient's computer.
Unsubscribe Mechanism Requirement and Clear Identification
Any time that a business sends a CEM there must be a valid unsubscribe option allowing the recipient to immediately unsubscribe from the form of CEM that they have received. In addition, the company must provide a clear identification about who they are, and provide a way for the recipient to contact them.
the name of the person sending the message and the identify on whose behalf the mes-sage is sent, if different;
contact information (mailing addressing and either a phone number or an email address) of the sender(s); and,
a mechanism that allows the recipient to easily unsubscribe at no cost.
Implied Permission
Implied permission takes place in a situation where the conditions of express permission have not been met but some previous relationship exists.
An example of implied permission includes:
Existing business relationships where the recipient has:
Bought or leased a product, good, or service from the business owner in the past two years
Been involved in an investment or gaming opportunity with the customer in the past two years
Entered into a written or electronic contract with the customer in the last two years Implied permission timeline: Implied permission is only a temporary exemption for organizations. It is recommended that all organizations attempt to gather expressed consent before the following deadlines, at which point implied consent expires:
For contacts captured BEFORE July 1, 2014: On July 1, 2017 (three years after law goes into effect)
For contacts captured AFTER July 1, 2014: Two years after they were initially collected. This applies only if the contact doesn't buy something new or doesn't renew their subscription, loan, account, or contract.
Your Next Steps
The Chamber has taken some time to outline what members should be doing to prepare and transition to the new requirements of the Anti-Spam Legislation.
Up-To-Date Contact List
All members should strive to maintain up to date contact lists that reflect the customers that have consented to electronic communication. It is important to engage all individuals on your contact list to ensure that they still consent to being contacted.The compliance should be simple and place no onus on the subscriber with messages such as:
reply to this email if you want to remain on our subscriber list
click on this link to remain on our subscription list
Invest in Email Services
Using Email Marketing services will allow members to deliver a better electronic product that is aesthetically appealing, while also maintaining a contact list. These email marketing services also manage your subscriber lists to ensure that you are complying to the Anti-Spam legislation. For example Constant Contact offers comprehensive webinars, guidelines and templates tailor made for compliance with CASL. For small businesses, many of these services, such as Mail Chimp are free (less than 2,000 subscribers). Here is an online resource that ranks the Top 10 Email Marketing Services.
Consent is Good for Business
While the law is extremely specific and likely cumbersome for many small businesses, there are positives to draw from the Anti-Spam Legislation. Members should focus on delivering online products that engage customers to sign up for online subscriptions. Having an engaged online following that has consented to communication about products offered by your business will only help your business.
Example (Chamber newsletter):
We have attempted compliance at the Chamber through the provision of unsubscribe and consent buttons.
Header: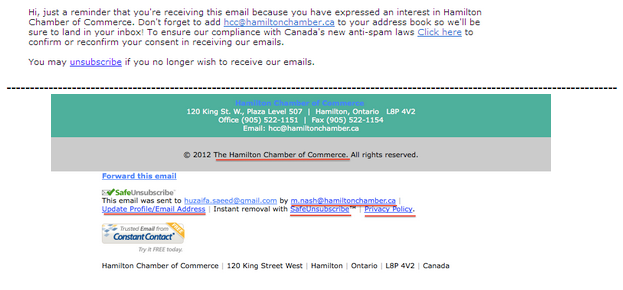 Footer:
The example email contains several key information that is now required by the CRTC:
A. Clear identification of the organization sending the email
B. Clear identification of the individual sending the email
C. An ability to update profile settings and manage which emails are received from the organi-zation
D. Ability to unsubscribe immediately from all future communication and an opt in button.
NOTE: The information included on this page is meant to guide you through the process of understanding CASL and is not a substitute for legal advice. More information can be found on the CASL website here.