M&M Food Market
Food Stores, Specialty, All Other
Visit Us At Our Newly Renovated Locations
Our Franchise Partners And Customers Are Loving Our New Store Design!
Our new store design is one of the most important elements of our rebranding and we've heard some great feedback from stores and customers so far.
"The customers love the new store! They walk in, stop and take it all in. They can't believe the change and love the fact that they get to shop the store themselves. We are still available to help but they see products they never knew we carried!"
– Christine Macri, Store 250 Lloydminster, AB
You'll notice exciting changes underway at M&M Food Market, all designed to help you make real food for real life. Our new name brings with it a reinvention of the brand, including a newly renovated and revitalized store concept to create a brand new shopping experience.
Stay tuned – there may be a newly re-designed store coming to your city soon.
---
Discover A New In-Store Shopping Experience
Browse and Grab Aisles
We have opened up the counters to create a more interactive shopping experience. Browse our stores and discover over 400 products made to help you make real food for real life.
Kitchen Tools and Accessories
From ramekins to tongs, our new lineup of kitchen tools is meant to lend a helping hand. Our goal is to make those moments you spend preparing and serving our food that much more convenient.
New Packaging
Our bold new product packaging features full-colour photography which will help you shop the store and make your selection.
Meal Advisors
Our team of knowledgeable Meal Advisors understands your needs and will help you to build inspiring meals to fit your life.
Why M&M Food Market?
For over thirty-six years, M&M has helped Canadians put delicious meals on the table by offering consumers easy-to-prepare, top quality foods and personalized customer service, all within a uniquely convenient shopping environment. We've taken this task to heart and have grown to become Canada's leading retailer of frozen foods, a truly iconic Canadian brand and a trusted guest at dinner tables across the country.
Following a significant rebranding effort in 2016 – including the name change from M&M Meat Shops, a new store design, new products and packaging, a new website and newly trained Meal Advisors – M&M Food Market is poised for franchise growth.
M&M Food Market offers Franchise Partners:
A proven history and national recognition as leaders in frozen food and food retail
A brand new, modern, award-winning store design with a small footprint for optimal efficiency (CLICK HERE to find out more about our new store design.)
Ongoing food innovation, exclusive M&M products not available in grocery stores, and our Food Commitment to create a product lineup 100% free from artificial colours, artificial flavours, artificial sweeteners and partially hydrogenated oils (added trans-fats) by the end of 2017; plus, seafood products that meets our Sustainability guidelines.
Our customer loyalty program featuring nearly 9 million members that we can communicate with
Established brand equity supported by regional and national advertising, PR campaigns and over 6 million flyers delivered weekly to homes across Canada
A simple and cost-effective 'Owner Operator' labour model
A complete turnkey franchise package with comprehensive training and effective, hands-on, on-site support by an experienced and dedicated store operations team
Contact Us
M&M Food Market
100-2240 Argentia Road
Mississauga ON L5N 2K7
Liz Riley
1-416-433-8353
lizr@mmfoodmarket.com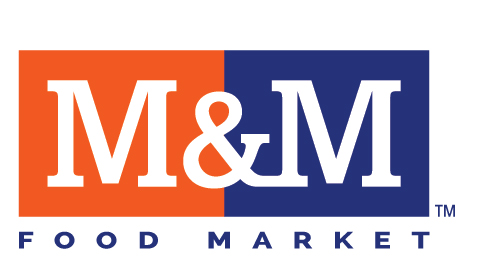 Contact
Liz Riley
(416) 433-8353
100-2240 Argentia Rd.
Mississauga, Ontario
L5N 2K7
Representatives