McMaster Innovation Park
Prof/Scientific/Tech Services
About Us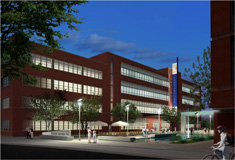 McMaster Innovation Park (MIP) at 175 Longwood Road South, is a premier research park that boasts an award winning design, 180,000 square-foot, 4-level office, laboratory and conference facility situated on 37 acres in the west end of Hamilton on Hwy 403 less than 2 kilometers from the internationally acclaimed McMaster University. MIP is the first in the area to offer collaborative space for researchers and entrepreneurs alike to co-locate, connect and commercialize; a place to transform their ideas from vision to commercial opportunity.
Realize Your Vision
McMaster Innovation Park is the place where visions are realized and ideas are transformed into commercial opportunities. Benefits of locating to MIP include:
1.  State of the Art facilities
2.  Association with McMaster University
3.  Networking Opportunities
4.  On-site conference facilities
5.  Prime Location
6.  Healthy Lifestyle
Art In The Workplace
MIP is a place for local artists and the community to connect and commercialize their artwork. Read all about it!
Now Available
The McMaster Innovation Park houses laboratory, office, teaching, training and conference facilities, in support of research and development in a number of key industrial areas: advanced manufacturing and materials, nanotechnology, bio-technology and other areas in which McMaster University has recognized research strength.
Innovation Factory
Realize Your Vision… The Innovation Factory assists entrepreneurs in developing their ideas to bring them to market. Do you need assistance with your ideas… see the Innovation Facory website at http://www.innovationfactory.ca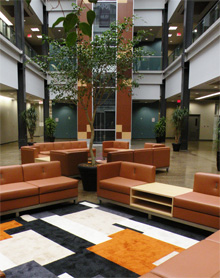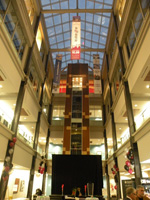 ---
What We Offer
Join one of the fastest growing research and business communities and come grow with us!  For further information, contact us.
MIP is a Secure Facility
State-of-the-Art Office, Laboratory and Incubator Space including:

Accessible Conference Facility
Guest Wi-Fi access
Campus-like setting
Onsite Food services

Conference and Meeting Space
Lifestyle Enhancing Benefits

Fitness Facility
The Atrium Cafe offers a healthy daytime alternative
Prime Location
Bike & Walking Trails

Increased Productivity

On-site Meeting Rooms
Wi-Fi Access in Atrium

Future Growth

Plans
Fly Through
Vision Statement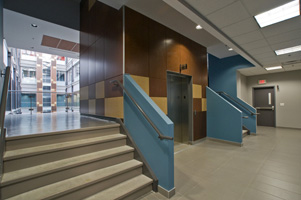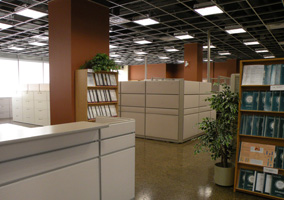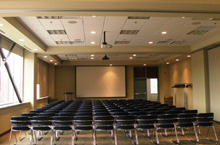 ---
Individual Contacts
McMaster Innovation Park
175 Longwood Road South, Suite 105
Hamilton, ON, L8P 0A1
Tel: 905-667-5500
---
Meeting Spaces
Executive Boardroom
Accommodations: Up to 25 people in U-Shape Style
Contains wireless internet and audio/visual equipment including built-in projector and screen.
Standard Meeting Room
Accommodations: Boardroom Style:  Up to 12 people
Theatre Style:  Up to 18 people
Contains wireless internet and audio/visual equipment including built-in projector and screen.
Small Boardroom
Conference Room

Room 1 is a versatile conference room comprised of four small adjoining rooms (Rooms A, B, C and D). Each conference meeting room contains Wireless Internet and complete Audio/Visual equipment including built-in projector and screen. 
Accommodations:
Full Conference Room         Theatre Style:  210 max people
Banquet style:  120 max people
Single Conference Room   Theatre Style: 55 max people
Banquet Style: 32 max people
Atrium (central open area)
 Accommodations:
Theatre Style:  180-216 max people
Banquet Style:  150-180 max people
Note:  There is no audio/visual equipment within the Atrium. 

Contact
Mark Stewart
(905) 906-8505
175 Longwood Rd. S., Suite 105
Hamilton, Ontario
L8P 0A1
Representatives
Mark Stewart
Ruth Liebersbach
Ty Shattuck