Heritage Home & Janitorial Services
Janitorial Services
About HERITAGE HOME & OFFICE SERVICES
Our Heritage
We've been helping people in Hamilton and surrounding areas to enjoy living in their homes or working in their office for over 25 years. We've earned a well deserved reputation for providing outstanding cleaning, maintaining, repairs and installations in and around their home and office.
We've also created a heritage of trust with our clients built on the quality and reliability of our experienced and professionally trained staff.
Whether your need is large or small, weekly, biweekly, monthly or just occasionally, Heritage Household Services has the experience and expertise to get it done.
Just imagine — we do the work so you can enjoy — your weekends!
Our Services
Heritage's multitude of services has different meaning for each of our
clients. Regardless of our client's needs, they all have one thing in
common. They all receive professional reliable cleaning and maintenance
service.
Working families who must maintain order and control
Home based businesses
Motor Vehicle Accident Victims
Rehab and Occupational Therapist Consultants for their clients
Seniors who wish to stay in their own homes
Veterans with homecare through Veterans Affairs Canada
Clients who are moving in or out (prepare the house for sale)
Estate Cleanings – removing furniture – catalogue, store and haul
Offices where image is important
On-call service, to clean and repair, when you need us (no job too small)
Specialized Museum caretaking
Residences and buildings requiring Window and Eaves Cleaning, Hardwood and Vinyl Floor treatments
Our Service Area
With a staff of 50 transported by Heritage Services vehicles – we are able to provide timely and dependable service to a large geographic area including the following locations:
Ancaster
Binbrook
Brantford (special request)
Burlington
Caledonia (special request)
Dundas
Lynden
Hamilton
Mount Hope
Stoney Creek
Oakville (special request)
Waterdown
Winona (special request)
If your community is not listed – please contact us as 905 648-1510 to learn if service is available in your area.
We Clean
We clean it exactly the way you want it done – the right way – every time we visit. You pick the schedule – we'll provide the service.
We know cleaning!  With more than 25 of years of experience — we've cleaned it all 1,000's of times!  It doesn't matter how dirty, delicate, difficult or demanding – our professionally trained staff will clean it.  And clean it to your high standards.
Interior Cleaning
Apartments
Homes
Offices
Condos
Basements
Exterior Cleaning
Windows (exterior and interior)
Eavestroughs
And more!
Heritage Household Services is available on a weekly, bi-weekly, monthly or occasional basis at a day and time convenient for you.
We always meet new or occasional clients in advance to walk through room by room to discuss how and what will be cleaned.  Clear, written information is provided to our staff outlining your cleaning instructions.
We also inspect our work to make sure it has been properly cleaned.  New clients receive an on-site inspection by a supervisor the first time your home or office is cleaned.  Then each client, regardless of how long they have been a client, receive a spot-check inspection on a regularly scheduled basis.
If, on the rare occasion we miss something – just give us a call – we'll come back quickly to make sure it is done right.
We Maintain & Install
It takes more than just cleaning to enjoy living in your home or working in your office — it also has to be maintained.  That usually means weekend chores or time-off from work to get those nagging, but necessary jobs done.
Heritage Household Services has the skilled staff to handle those unwanted tasks quickly and professionally.
Power Washing patios, porches and siding
Lawn and gardens (spring and summer clean-up)
Floor stripping and waxing
Wall washing
Leveling patio stones
And Install!
Changing lifestyles, decorating tastes, health issues, security concerns and just simple wear and tear around your home or office often requires the installation of new or replacement products and devices.
If you need help, we will find the product or device you need and at a reasonable cost – just leave it to us. Some of the installations we provide include:
Security lighting
Security peepholes
Smoke detectors
Safety bars in bathrooms
Doors & door locks
Lighting fixtures and ceiling fans
and more!
We Repair
Some repairs need to be made immediately while other repairs linger for months or years waiting for the perfect time to be fixed.
We provide home and office repairs because our staff have the skills and expertise to be make repairs quickly and with professional results.
Common repairs performed by Heritage Household Services include:
Leaky faucets
Minor electrical (lighting and fixtures)
Bondex basement walls
Strengthening stair rails
Patch drywall
Concrete
Weatherproofing (caulking and weather stripping)
Fences
Broken windows, glass & screen
And more!
No repair is too small and there is no waiting around for us to arrive.  Once we schedule an appointment with you, you can rely on us to be there on time.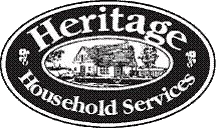 Contact
Frances Cheyne
(905) 648-1510
P.O. Box 10086, Meadowlands
Ancaster, Ontario
L9K 1P3
Representatives