Frid and Russell Business Products
Office Supplies and Stationery Stores
FRID + Russell has been delivering exceptional value to businesses in the Burlington, Oakville, Mississauga, Etobicoke, Milton, Guelph, Cambridge, Kitchener-Waterloo and now Hamilton since 1947. We offer everything you use in an office including; office supplies, office furniture, contract furniture, cafeteria, cleaning and breakroom supplies, custom stamps and more! We pride ourselves on delivering Sharp pricing with Real service, delivered Now!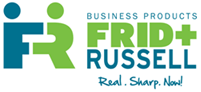 Contact
Tanya Hendriks
(905) 334-1790
1805 Ironstone Dr.
Burlington, Ontario
L7L 5T8
Representatives