YEP Roundtable: Westinghouse Redevelopment, City-building
Hamilton is on the rise. We'll hear from a panel of passionate city building aficionados on how they partnered to restore one of Hamilton's oldest buildings in Barton Village, Westinghouse HQ.
Join us for a YEP Roundtable Panel featuring the Westinghouse & Equal Parts Hospitality team: Tyler Cowie, Meir Dick, and Jason Cassis. Moderated by our very own, Bianca Caramento.
TOPIC – Hamilton redevelopment, city building, overcoming hurtles with the City, collaboration and building a business together.
Doors, drinks & refreshments at 5:30 pm.
Programming begins at 6:00 pm.
This event is free for YEP Members to attend. The fee for non-YEP members is $10.
Snacks and drinks will be provided.
More on Westinghouse HQ
Westinghouse HQ offers one-of-a-kind office space in a historic Hamilton landmark.
A testament to Hamilton's industrial excellence, Westinghouse HQ is an iconic seven-story building located in Hamilton's Gibson neighbourhood. Originally constructed in 1917 and designated heritage status in 1988, the building's structure combines a reinforced concrete and structural steel frame with an ornate and historically significant brick and cut-stone facade.
Currently under renovation, the reimagined Westinghouse HQ will feature Class-A offices with modern systems and finishes while remaining true to the building's distinctive feel and original accents.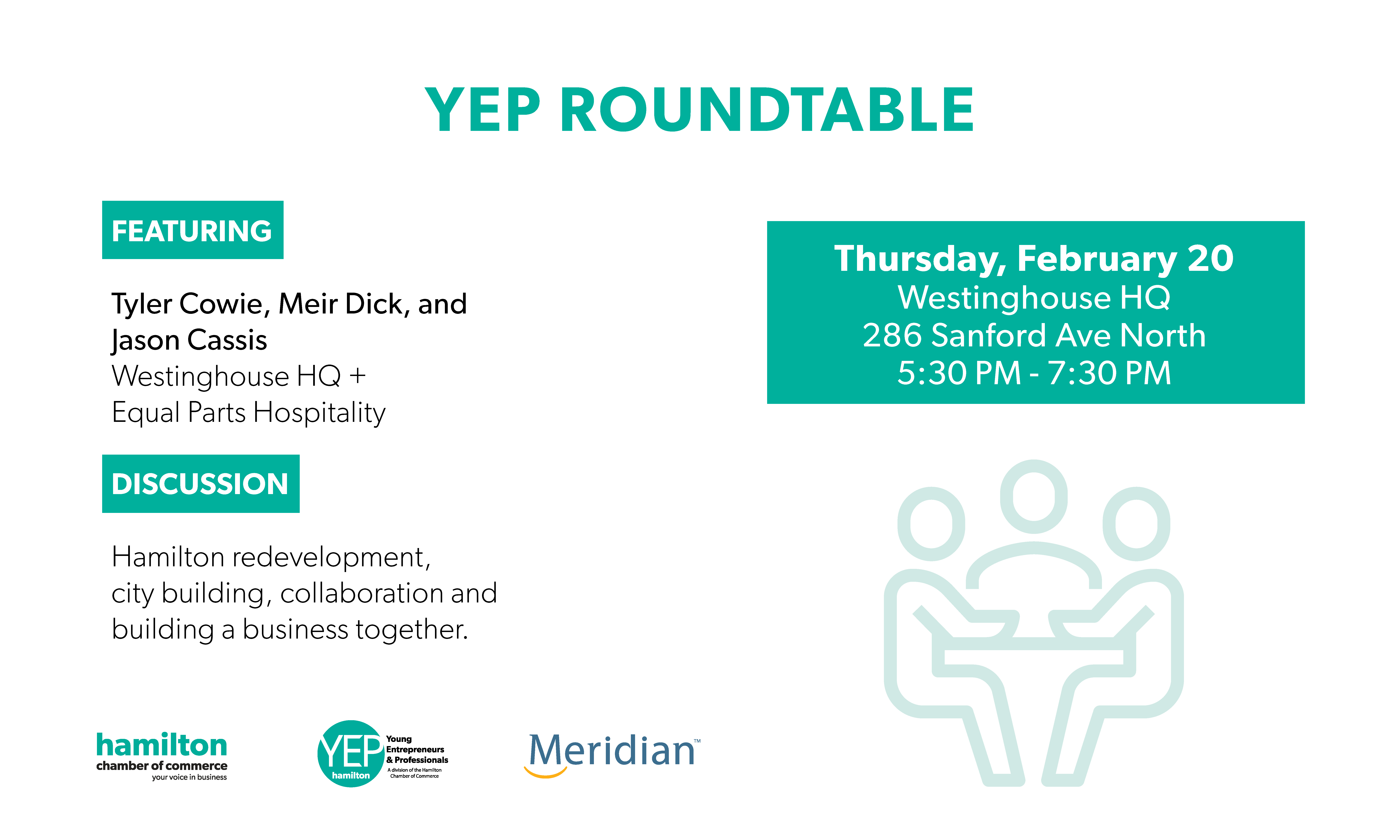 Date and Time
Feb 20, 2020, 5:30 pm - 7:30 pm
Location
Westinghouse HQ
286 Sanford Ave N
Hamilton
Ontario
L8L 6A1