Featured
Night Time Economy Summit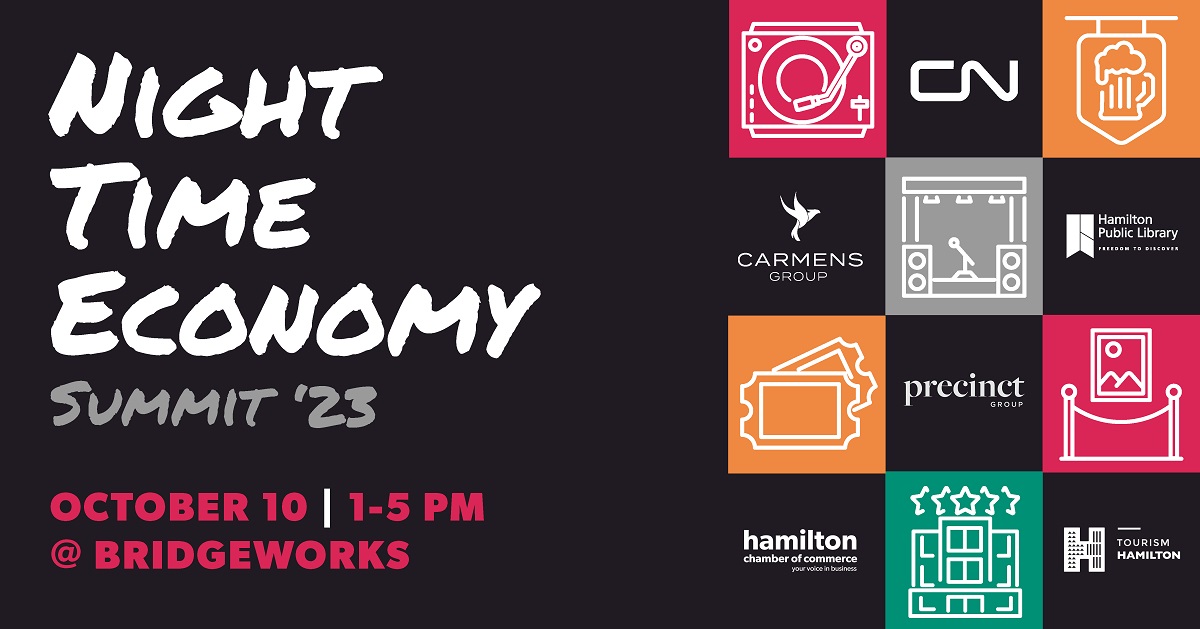 The Hamilton Chamber of Commerce is thrilled to announce a new and transformative event for our vibrant community.
The inaugural Night Time Economy Summit will unite our community to explore, celebrate, and shape the future of Hamilton's night time economy.
This half-day gathering will shed light on the untapped potential of night time activities and foster collaboration among stakeholders to create vibrant, safe, and sustainable urban nightlife experiences in Hamilton.
Date: Tuesday, October 10, 2023
Time: 1:00 pm – 5:00 pm
Location: Bridgeworks, 200 Caroline St N, Hamilton, Ontario
Tickets: $80+HST. Refreshments will be served.
Who Should Attend?: Industry Leaders, Stakeholders, Policymakers, Entrepreneurs, Creative Minds, and community members interested in improving Hamilton's night time economy.
Meet the Speakers

At the Summit, we'll hear from four industry leaders for insightful conversations on what opportunities exist for Hamilton's night time economy.
The event will kick-off with a Keynote from Shain Shapiro, Founder & Chairman, Sound Diplomacy on "What is a Night Time Economy & What Opportunities Exist for Hamilton".
The afternoon will also include three fireside chats:
"Transportation: Safe and Effective Ways to Move at Night" with Jarred Johnson, Exectuive Director, TransitMatters
"MTL 2424: Lessons from Montreal's Night Time Economy" with Mathieu Grondin, General Director, MTL 24/24
"The Future of Hamilton's Entertainment Precinct" with Tom Pistore, President, OVG Canada
The NTES is proudly sponsored by Tourism Hamilton, HUPEG, Carmen's Group, the Hamilton Public Library, and CN.

Date and Time
Oct 10, 2023, 1:00 pm - 5:00 pm
Location
Bridgeworks
200 Caroline St N
Hamilton
Ontario
L8R 0A6