Bay Area Economic Summit
Updates have been posted on bayareasummit.ca.
Listen to audio from the panel discussions at BAES 2016.
---

The second Bay Area Economic Summit will be held on Tuesday June 21, 2016 from 8 am to 4 pm at Royal Botanical Gardens.
We're thrilled to again team up with the Burlington Chamber of Commerce to co-host this marquee leadership initiative in cooperation with a range of partners, including the City of Hamilton and City of Burlington.
A highlight will certainly be a keynote address by our provincial premier, The Honourable Kathleen Wynne (pictured).
"The premier will contribute to the overall impact of the summit and provide a direct pipeline to provincial policies and programs helping to advance the Bay Area as a key component of the Greater Golden Horseshoe and beyond," said Hamilton Chamber president and CEO, Keanin Loomis.
The day-long program – now in development – will help define how we can work together as a regional community to increase employment, strengthen the economy and improve our quality of life.
Details to come.  In the interim, mark your calendar. For information, contact Richard Allen at r.allen@hamiltonchamber.ca or 905-572-0363 (cell).
---
BAES 2015 in Retrospect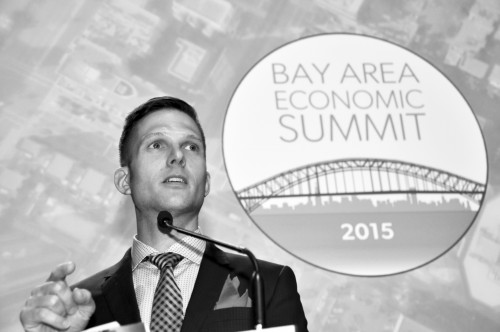 A capacity gathering of 325 community leaders participated in this week's inaugural Hamilton and Burlington Bay Area Economic Summit at Royal Botanical Gardens.
The purpose of the event – co-hosted by the Hamilton Chamber of Commerce and Burlington Chamber of Commerce – was to help strengthen strategic cooperation between our respective cities with a view to grow as a key component of the Greater Golden Horseshoe. In addition to the immediate value of coming together to showcase examples of progress and discuss outstanding issues, the summit will lead to a white paper that will help inform a Bay Area Economic Agenda. "Our two chambers are committed to partnering with our respective municipal leaders to shape and sell the Bay Area story," said Hamilton Chamber CEO Keanin Loomis (pictured). "Together we can flourish as a regional community at the epicentre of one of the world's top mega regions." The organizing team expresses sincere thanks to all of the partners, sponsors, supporters and friends who contributed to the success of this year's summit.   Image courtesy of Reg Beaudry.