Hamilton Chamber of Commerce Policy & Advocacy Strategy Development (2017-2018)
Under the leadership of a newly created Policy & Advocacy Council, the Hamilton Chamber of Commerce is embarking on an ambitious membership engagement and strategy development process. This webpage will provide a chronological overview and updates to the process.
Context
As the "voice of business" we actively represent the interests of our membership to all three levels of government. The Chamber also plays a leadership role within the Ontario and Canadian Chambers of Commerce networks, contributing towards the implementation of their collective advocacy priorities. At any given time of the year, our organization is juggling at least twenty policy issues on behalf of our membership. As a city undergoing an economic renaissance and identified as one of Canada's most diversified economies, there is indeed no shortage of opportunities!
In the past few years, our organization has made a commitment to critical self-evaluation and evolving to meet the needs of our members in the 21st century. A Task Force of our Board concluded in Fall 2016 that our committee and divisions networks had evolved to focus away from policy development towards networking and business intelligence. While our staff were actively participating in hundreds of engagements annually and producing new policy content weekly, we were lacking an effective membership engagement and participation culture.
Step 1 (December 2016 – March 2017): The Policy & Advocacy council was handpicked as a representation of Hamilton's most accomplished policy and public affairs professionals. Together, we began a thorough evaluation of best practices across the North American Chamber network. Utilizing we learned, the PAC proposed a multi-step engagement process to create a more intentional alignment between the diverse needs of our membership. The results of this engagement will create a document shortlisting our key government advocacy priorities, with a clear timeline and defined metrics to ensure accountability.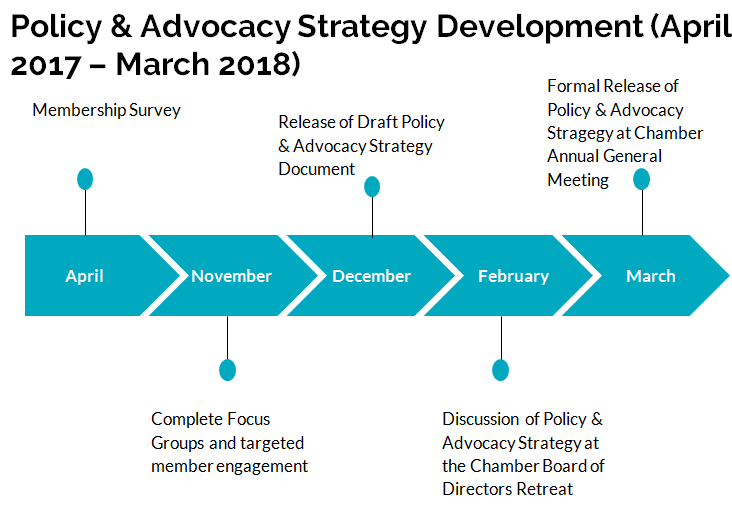 Step 2, Policy & Advocacy Survey: Running from April 24th to May 15th, 2017, the survey was an essential component of our intent to develop a long-term strategy. We received a sample of over 12% of our membership. See below for an infographic summarizing our results and HERE for the full report.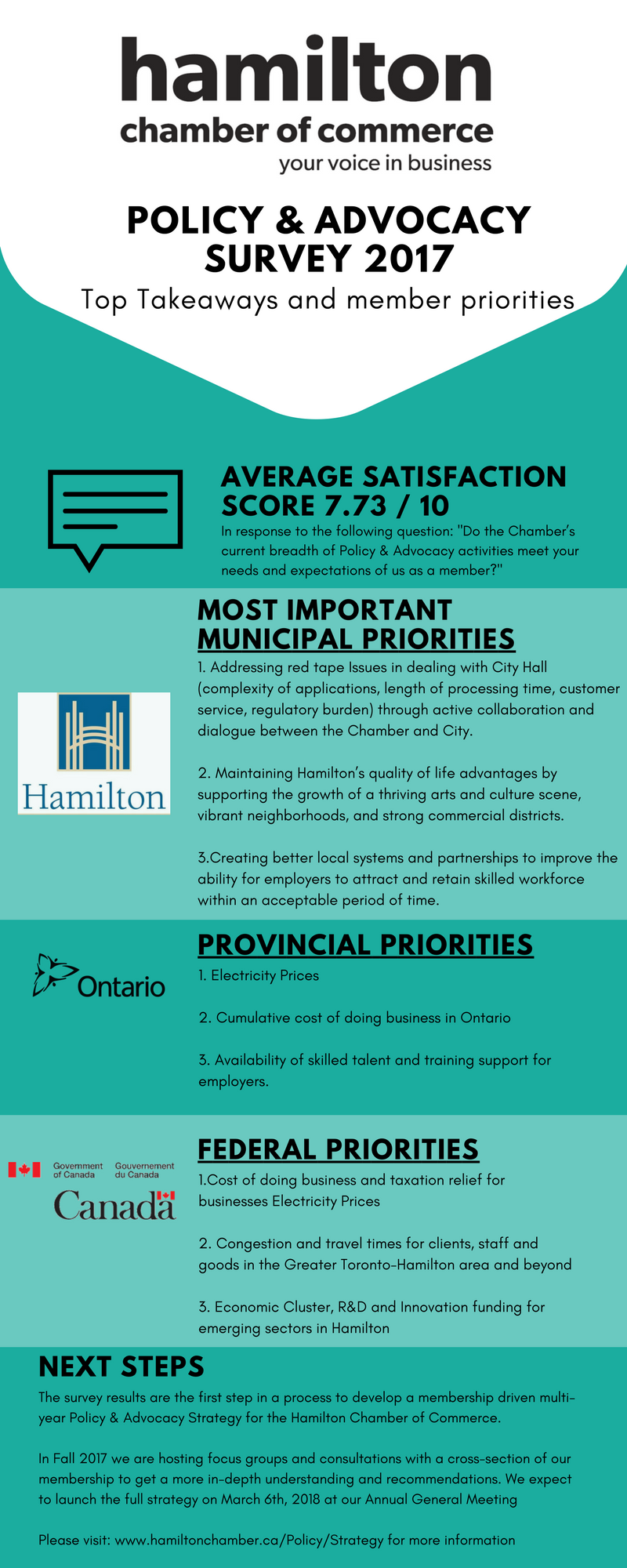 Step 3: Policy and Advocacy Focus Groups. Schedule (October – November 2017)
We are currently finishing up a series of focus groups aimed at membership sectors that emerged from the surveys. In a small group setting, Chamber staff and Policy Council members lead discussions to investigate key areas of concerns and develop recommendations. Members unable to attend were able to participate electronically and request one on one visits.
Open for Business, October 16th, 2017: The discussion was be themed as "From Back of the Napkin to 1st year Anniversary". Chaired by Policy & Advocacy Council member Ed Fothergill of Fothergill Planning Consultants, the focus group Covered the hurdles businesses have faced with real estate, zoning, licensing, customer service, support from government and their top three expense drivers. CLICK HERE to see the worksheet.
Manufacturing, Agrifood and Logistics, October 25th, 2017: The focus group was chaired by Policy & Advocacy Council member, Larissa Fenn of the Hamilton Port Authority. The discussion was featured the Chamber's current advocacy priorities as they relate to manufacturing. Quick Overview of where these sectors fit into the City of Hamilton's Economic Strategy and the attendees then focused on their top challenges and recommendations. CLICK HERE to see the worksheet we used.
Broadband and Wireless Internet Service Providers, September – November 2017. Over the past several months, the Chamber has convened all nine major internet service providers under a special working group. The working group is currently completing a report on the challenges limiting capital and market investments in Hamilton and policy recommendations aimed at reducing red tape with the City of Hamilton. CLICK HERE to see their draft report.
Infill and Greenfield Developers, November 2017: Details coming soon.
Creative Industries and Quality of Life, November/December 2017: Details coming soon.
Step 5 & Conclusion: The strategy document will be finalized and formally released to the membership at the Chamber's Annual General Meeting on March 6th, 2018.
The recommendations will be tracked and updated regularly through this webpage.
For more information, to request a consultation visit from Chamber staff or more information on how to contribute otherwise, please contact: Huzaifa Saeed at h.saeed@hamiltonchamber.ca