Outstanding Business Achievement Awards 2019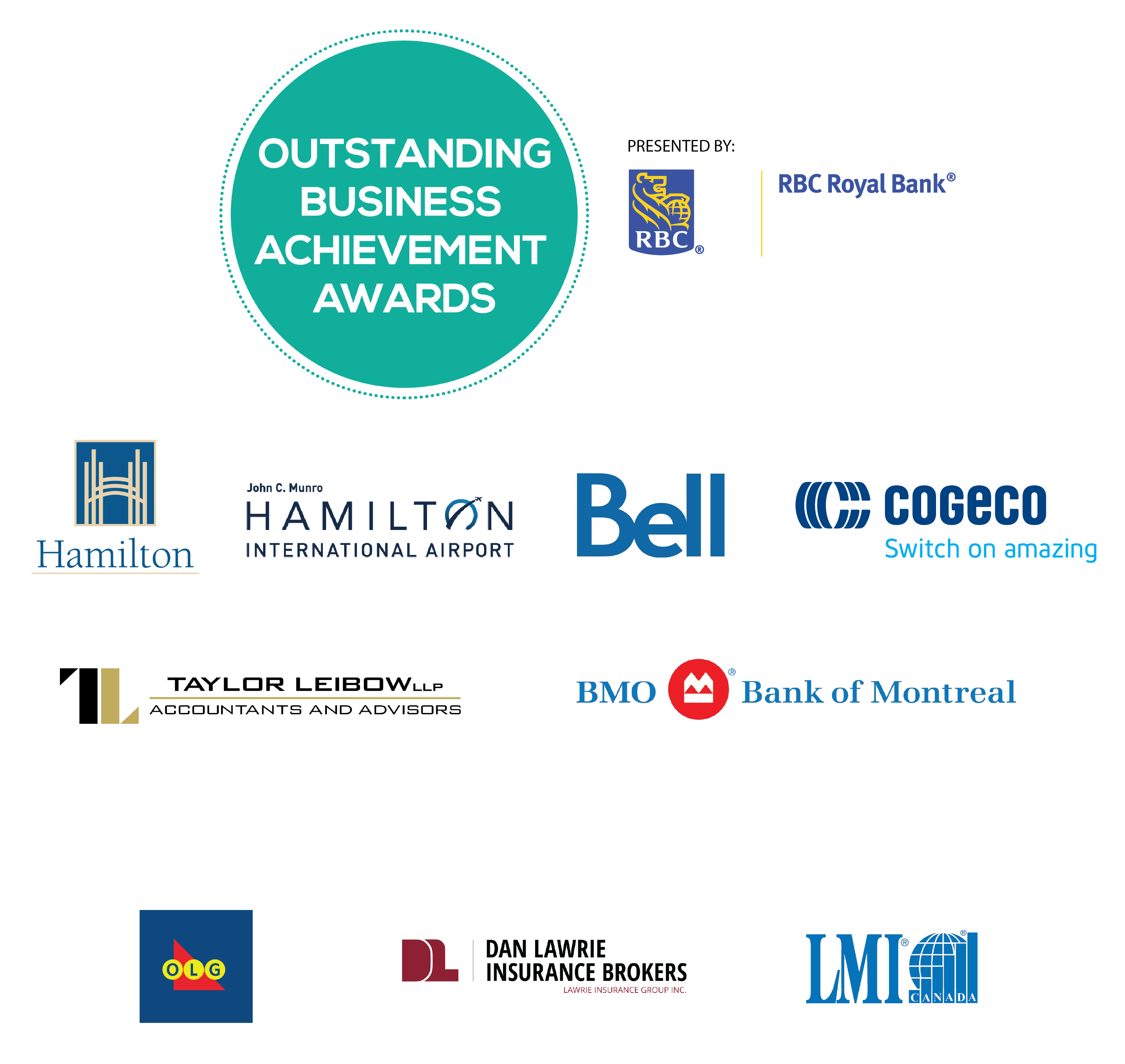 February 12, 2019- Hamilton, ON – The Hamilton Chamber of Commerce is pleased to announce the following nominees for the 2018 Outstanding Business Achievement Awards presented by RBC Royal Bank.
Small/Medium/Large Business of the Year:These awards will be presented to a profit-centred private business organization, whose business achievement made an outstanding contribution to Hamilton in 2018.
Small Business of the Year (1-10 employees)
Hamilton Technology Centre
Solee Shoes
Thrillhouse Studios
Mid-sized Business of the Year (10-50 employees)
CARSTAR – The LC Group
Eccles Auto Service Inc.
Judy Marsales Real Estate LTD
Large Business of the Year (50+ employees)
Caliber Communications
DependableIT
John C. Munro Hamilton International Airport
Young Entrepreneur of the Year:This award will be presented to a young entrepreneur(s) age 35 and under, who owns and operates his/her business in Hamilton.
Adam Lloyd – ALP Training Institute
Mark Stewart – FlyPrint
Nick Mancini & Joal Roshko – Heartwood Renovations
Not-For-Profit:This award will be presented to a not-for-profit organization that operates in Hamilton. The organization must have been in business for a minimum of 3 years.
Ancaster Community Services
VON Canada
The Outstanding Business Achievement Awards will also honour the Hamilton Tiger-Cats with the Accessibility and Century Award for creating an accessible work environment and valuing the contribution of persons with disabilities, and their contributions to the community for over 100 years.
"Each year, the Hamilton Chamber of Commerce is thrilled to celebrate the best in business in this community, and these nominees are certainly well-deserving of that distinction," said Chamber President & CEO, Keanin Loomis. "It's important to recognize their significant contributions to the vibrancy and prosperity of Hamilton and, in the process, inspire others to excellence."
The Chamber would like to thank the sponsors who support this event: Presenting Sponsor RBC Royal Bank, as well as Bell Canada, BMO Bank of Montreal, City of Hamilton Economic Development, Cogeco, Lawrie Insurance Brokers Ltd., OLG, John C. Munro Hamilton International Airport and Taylor Leibow.
The winners in each category will be announced at a gala dinner on March 26th, 2019 at Carmen's Banquet Centre.
Date and Time
Mar 26, 2019, 5:00 pm - 9:00 pm
Location
Carmen's Banquet Centre
1520 Stone Church Road East
Hamilton
Ontario
Canada
L8W 3P9